Timesharing/Custody/Visitation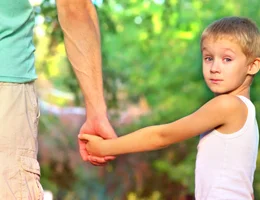 A visitation or timesharing schedule is a timetable that outlines when each parent will spend time with their child and must be included in the parenting plan. It specifically dictates who will share weekends, holidays, birthdays, and special occasions with the child. Generally speaking, all parents have the right to spend quality time with their children. According to Florida Statute 61.046(23), the timesharing schedule shall be:

(a) Developed and agreed to by the parents of a child and approved by the court or;
(b) Established by the court if the parents cannot agree or if the court does not approve their agreed-upon schedule.
The law firm of Alba & Straile PLLC has decades of combined experience in handling visitation-related matters, or what is now referred to in Florida, as timesharing. As knowledgeable practitioners, our firm is aware of the emotional strain and complex choices associated with setting a timesharing schedule. Therefore, our law firm strives to simplify this process while also providing clients with a clear and workable timesharing schedule. We want to ensure that parents have adequate time to enjoy and bond with their child.
Creating a Visitation or Timesharing Schedule
Parents must remember that divorce ends a relationship with their spouse, not their child. For this reason, parents should always keep in mind the best interests of the child. Parents are encouraged to consider the following goals when creating a successful visitation schedule:
Minimize Loss. A child's perspective on divorce can be quite different from that of the parents. For your child, divorce can signify the loss of a home, loving parents, pets, and a daily schedule. Feelings of abandonment and despair often appear. Respect and understand your child's emotions during this process. Make a conscious effort to avoid unneeded changes that might result in a loss for the child.
Maximize Relationships. Encourage continuing relationships with all family members, including your spouse's relatives. Maintaining family ties is vital to your child's proper growth, development, and understanding of self. Make time to include family members in extracurricular activities, birthday celebrations, and special events. Your child should never feel guilty for wanting to spend time with his/her maternal or paternal family.
Increase Security. Try to incorporate as much stability into the schedule as possible. If feasible, keep the child in the same school, maintain established rules and assure them of your love.
Avoid Conflict. Creating a clearly defined schedule will reduce the stress felt by your child. Any conflict between parents is harmful to the child, especially right after a divorce. Save any disagreements about child custody, support, or visitation issues until your child is not present.
Ensure Proper Drafting of the Plan. Your parenting plan and timesharing schedule supply the primary terms regarding each parent's rights, duties, and obligations. Therefore, it is vital to ensure that all critical issues are fully addressed when drafting your parenting plan.
Modifying a Visitation or Timesharing Schedule
When you or your spouse need to modify the visitation or timesharing schedule, a Petition for Modification must be filed unless the parties agree upon the change. As in other aspects of family law, judges modify schedules only when a substantial change in circumstances has occurred, or the child's best interests are endangered.
The relocation of a child is often the only exception to the rule. When a custodial parent intends to move with the child, they must submit a Notice of Intent to Relocate to the court and any party entitled to timesharing. Those opposed must file an objection to the proposed relocation in writing within 30 days. If the parents cannot reach an agreement following the objection, the court will decide if they will allow the child to relocate. Please refer to our page on relocation for an in-depth discussion on the Florida statutes regarding this subject.
Alba & Straile PLLC Understands the Challenges of Visitation Proceedings
Our legal team understands the significance of visitation from both a parent and child perspective. Our goal is to create a timesharing schedule that will maintain a healthy relationship between both parents with their child. We pride ourselves on being results-driven and committed to our clients with compassion, attention to detail, and ease of attorney accessibility.  Our law firm provides our clients with the sound legal representation necessary to effectively and efficiently address all of their child custody and visitation needs. We represent clients in Alachua, Lake, Marion, and the surrounding counties in Florida. Contact Alba & Straile PLLC at (352) 371-9141 for a no-obligation consultation today.